Stacking The Shelves is all about sharing the books you are adding to your shelves, may it be physical or virtual. This means you can include books you buy in physical store or online, books you borrow from friends or the library, review books, gifts and of course ebooks! Visit Tynga's Reviews to learn more about this weekly meme.
I got a new bookcase today!  I don't have pics to show yet, because I still need to finish unboxing it and putting it together.  And I'm not in the mood tonight.  But I did get pics of Iris and Kova playing in the box.  These pics actually capture their personalities quite well.  Iris can be quite hyper, and she's always on alert.  She also stares at me like that ALL THE TIME.  Kova, on the other hand, is very mellow and much more into relaxing.
FOR REVIEW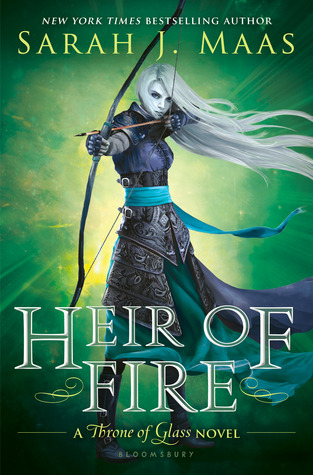 Heir of Fire by Sarah Maas: Confession – I have not even started this series yet!  I did read The Assassin's Blade, which was very good, so I'm looking forward to getting started on this.
PURCHASED – SUBSCRIPTION BOXES
I've signed up for a ton of subscription boxes over the last year.  It's an unhealthy habit – for my wallet.  But I've gotten addicted to thrill of opening these mystery boxes, even though I have yet to use many of the products that come in them.  Two boxes I subscribe to are book-related: Book Riot and Powell's Indispensable.  Please Ignore Vera Dietz, The Killing Moon, and A Rogue By Any Other Name are all from the latest Book Riot Box.  (I wrote a review of these items yesterday – here – so I won't repeat myself in this post.)  All the Light We Cannot See and The Empathy Exams are both signed and are from Powell's Indispensable.  I have seen great reviews for All the Light all over the place, and I love the pretty slipcover that Powell's includes.
AUDIOBOOKS – FREE!
All Our Yesterdays by Cristin Terrill: Don't forget about the free audiobooks every week this summer at SYNC!
Julius Caesar by William Shakespeare
LIBRARY
Bittersweet by Miranda Beverly-Whitemore

Review and Giveaway: The Bees by Laline Paull
Review: Dear Killer by Katherine Ewell
What Was in the Latest Book Riot Subscription Box?
Ten Books That Will Be in My Beachbag
Let me know what hit your shelves this week!
Related Posts