Top Ten Books I'd Like to Read With a Book Club
I've never belonged to a book club.  Unless you count blogging, and hey, why not?  But if I did belong to an "official" book club, the books below would be at the top of my list.  I've already read all of them, so I'm including them because I believe that they would spur interesting discussions.
This first group of books is included because the opinions on them are so divisive:
Twilight by Stephenie Meyer: Come on now – how could we NOT discuss this???
Mockingjay by Suzanne Collins: I loved the ending of Mockingjay, but I completely understand why a lot of people didn't.  I thought it was very true to Katniss and her story.
Allegiant by Veronica Roth: I thought this book was just OK, but I have a lot of admiration for what Roth did with the ending of her series.  Anything that provokes such emotion (and even death threats from the crazies) is worthy of discussion.
Let's discuss the book AND the movie:
The Silver Linings Playbook by Matthew Quick: I was surprised by the number of difference between the book and the film adaptation.  I watched the film first, and I loved it.  I think that contributed to me having a ho-hum feeling about the book, because as I encountered the changes, both major and trivial, I kept thinking, "The filmmakers did this so much better."
The Road by Cormac McCarthy: Both the book and the movie present a terrifying depiction of a post-apocalyptic world.  The movie is a pretty faithful adaptation, and I highly recommend them both.
Under the Skin by Michel Faber: A creepy, unsettling book and any discussion of it would have to include the even MORE creepy and MORE unsettling film adaptation starring Scarlett Johansson.
I want to understand what I missed: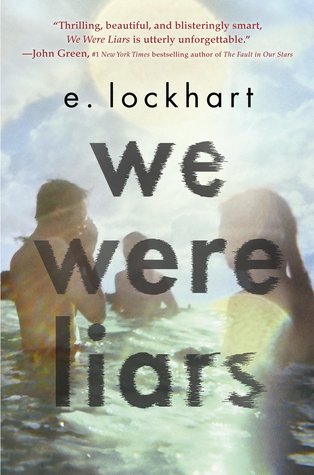 We Were Liars: A lot of my GR friends loved this book, and it made lots of "Best of" lists in 2014.  Were people so enthralled by the twist ending that they were willing to forgive what was, IMO, an otherwise dull book?  Or is there actually something to all the accolades?
These two books by Stephanie Kuehn really messed with my head:
Complicit and Charm & Strange by Stephanie Kuehn
 The book I WILL NOT STOP trying to convince you to read:
Here by Richard McGuire: You know when you are the only one among your friends who has read a particular book, and you loved it, but you have no one with whom to discuss it?  This is that book for me.
Your turn!  Share your TTT post with me below!
Related Posts