Stacking The Shelves is all about sharing the books you are adding to your shelves, may it be physical or virtual. This means you can include books you buy in physical store or online, books you borrow from friends or the library, review books, gifts and of course ebooks! Visit Tynga's Reviews to learn more about this weekly meme.
I am about to use this section to give myself an opportunity to whine, so consider yourselves warned…
Overnight last night, the water pipes leading into my house froze, and as a result, I have no water.  As in none.  As in Not a Drop to Drink.  I pretty much squandered the entire day calling the water company, a plumber, and Googling, getting more worked up with everything I learned.  Bottom line – hiring a plumber to try to identify the frozen section of pipe and thaw it would be costly and time-consuming, so I'm probably better off just waiting and hoping for warmer weather to heat up the ground above the pipes.  It should get to mid-fifties on Sunday.  I have no idea if that will be enough to thaw the pipes, but I'm counting on it.  But the worst part is that my pipes could have cracked, which I won't know until the pipes thaw and the water starts flowing again, and then I'm looking at some expensive repairs.
In the meantime, I'm trying to cope without water.  I went to the grocery store today to buy paper plates, plastic cups and utensils, baby wipes, and ten gallons of water.  I also bought food that can be cooked without needing water.  Well, that wasn't the hard part, but I had to make sure I didn't buy anything that would require cleaning pots or pans afterwards.  I've learned that it takes a lot of bottled water to just wash my hands, even when barely rinsing them.  I've learned that trying to flush a toilet with no running water after watching contradictory instruction videos on YouTube is hard.  Mostly, I have even more evidence to know that I am not well-equipped for roughing it!
If you've got some warm, sunny thoughts to send my, I'll take 'em.  Maybe some dry shampoo, too. 🙂
UPDATE: My water is back!  I'm shocked, because it just got a little above 40 today, and I didn't think that would be enough to thaw the pipes.  And as far as I can tell, no leaks occurred, so all things considered, I got lucky.
FOR REVIEW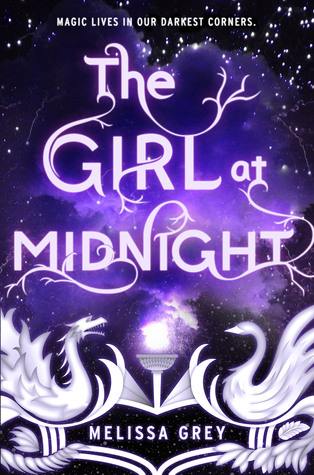 The Girl at Midnight by Melissa Grey
LIBRARY
The Ruby Circle by Richelle Mead
The Shadow Cabinet by Maureen Johnson
The Glass Arrow by Kristen Simmons
I'll Meet You There by Heather Demetrios
Let me know what hit your shelves this week!
Related Posts